Carl T. Griffith, who gave a sourdough starter to anyone who asked, or who sent him a self-addressed stamped envelope, died early in the year 2000 at the age of 80. He is known for his generosity and the high quality and vitality of his sourdough starts, which came from a sourdough culture carefully nurtured and preserved in his family for over 150 years.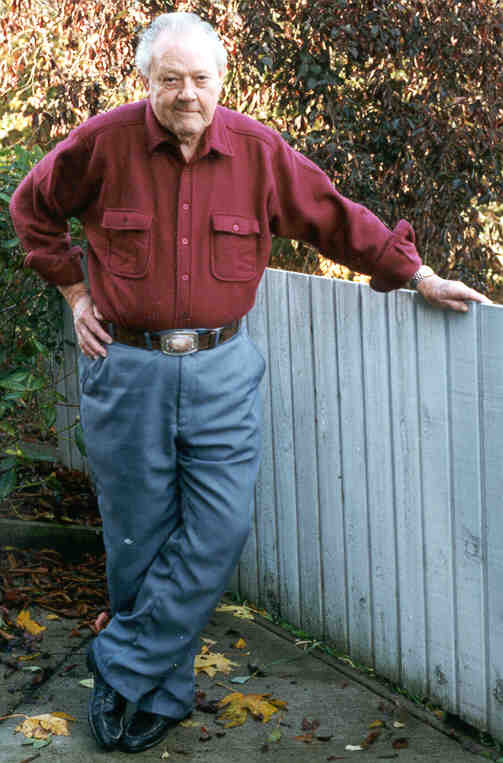 Photo by LeJeune,1999

Carl was born in the desert country of eastern Oregon in Burns on September 4, 1919, the only child of Dr. Carl C. and Bertha W. Griffith. He graduated from the University of Oregon School of Business Administration in 1947 and the School of Law in 1950. He practiced law in Oregon, Utah, and California. He served in the Air Corps in England during World War Two and remained in the Air Force Reserve until he retired in 1979 as a Lt. Colonel. He died March 23, 2000, in Sequim, Washington, where he had lived since 1990.

May 4, 2000

LeJeune has provided the following illustrated news item:

Here is one of the photos I took at the ceremony for Carl on April 14 in his hometown of Burns, Oregon, out in the middle of the Harney County desert that he loved so much. His son Clay, who is in the Marine Reserves, arranged for a group of Marines to come to Burns and do the flag ceremony and fire a 21-gun salute and have Taps played. Carl, as I think you know, retired as a Lt. Colonel in the Air Force Reserve, and this ceremony would really have pleased him.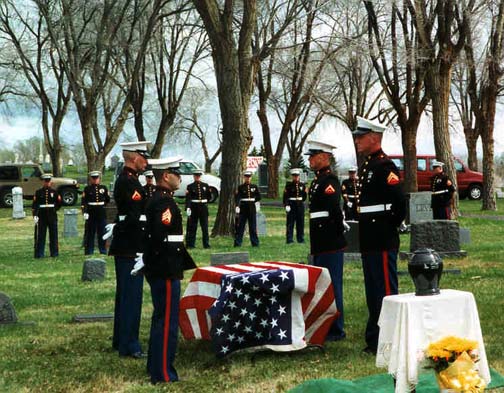 Photo by LeJeune
There was a curious diversion during the ceremony. I noticed in the top of one of the tall, leafless trees in the area where the Marines were rehearsing a very large nest, and it appeared like the head of a large cat in the nest. It turned out to be a Great Horned Owl which has earlike tufts on its head. When the guns went off, the owl took off in a flight over the gravesite. Somehow, it seemed quite appropriate. Clay had said he wished he could have arranged a fly-over by airplanes but couldn't make it happen. Well, what more fitting substitute than a fly-over by a winged native of Burns?